Group Discussion Related Topics
Films are corrupting the Indian youth?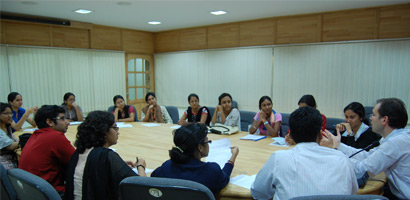 Try to keep latest information on the topic.
The group may be given a topic and asked to discuss on the same manner.
Most important don't wait for your turn to speak when discussion is on. Interrupt politely if you want to put forward your points.
A panel will observe the proceedings and evaluate the members of the group.
Saniya,

says

May 21, 2017
I think films are not so good and not so bad because films are just for entertainment, there are also so many films which gives valuable information to the society as well as youth, but whatever gain from that film is depends on the individual's mindset, if a film gives unnessasary information we can understand that is wrong, practically what is going on in our society is people watch movies just for entertainment whether the film is good or bad.
Durgesh Verma,

says

August 15, 2015
I think we can't justify this. Because it depends on Viewer's thought. If they learned good thing then movie is good otherwise bad. So it depends on us that what we gain.
Venky,

says

Mar 29, 2014
I partially agree that films has an impact on the youth because according to the survey a film has 4 days of effect on a young teenager.In the age of teenage they will not adjust and agree with the elders,actually they had more attraction towards movies most of the times they are used to imitate the actions of hero or etc., this could be one -ve impact and according to some body said that movies gives good messages even though film gives good message they will not fallow it.till now i don\'t that a person become a successful by inspiring a movie.so my opinion is when you give \"a milk which is diluted with water food to duck,it will squeezes entire milk and leaves the water\",so you should take the message or etc., like that.
Adil Raza,

says

Mar 14, 2014
Movies are not bad for indian youth. Because film also contain good part like love, respect to other, helping other needed people. But at the same time i can not refuse that movies has its bad parts also. But making of bad movies is the mistake of movie producer as well as writter.
Himani Droch,

says

Mar 02, 2014
Films corrupting youth or people is not a true. I agree that first we get only negative part rather than positive. just take an example whenever an unknown person see one boy and girl of same age they definitly think first that they are boyfriend girlfriend but they may be just friends or bro n sis or may be relatives and same as in movies they get bad part in life and other they forget all movies are made with positive lesson like my friends told 3 idiots,barfi,fukrey,chak de india,lagaan,taare jameen pr,oh my god, nayak and so on.
Mahesh,

says

Feb 07, 2014
I don't think films are corrupting the youths.its depends on individual point of views. The youth have the maturity to think about what is good and bad. There are good films and as well as bad.ex of 3 idiots and dirty picture in 3 idiots there is good message about education. Where India needs such kind of system.and dirty picture is only entertainment. It does not impact on our system if we see in that point of view.
Sachin,

says

Jan 23, 2014
There are two types of mind. 1st is that what you are thinking about any thing and the 2nd is that what you learn about that things, it's totally depend on you. In my way nothing is bad and nothing is good if something is wrong here it's only your mind. Films are not corrupting the people, peoples are corrupting the films. I will give you the example of one movie thatŠs name is Sadda Adda all the boys were very bad in the starting of movie they were drinker, smoker. But at the end of the movie they all got a batter job on a better position..now the question is that how? because they were determined, they have a lots of positive thinks. One day they realized we are making fool to our parents, and then they started thinking about their future and they all got a better job.. what was the difference between starting to end. if you will find then you will get one difference in their life that is thinking. You have to change your thinking. In the world nothing is bad and nothing is good it's totally depend on your thinking.
Deepthi,

says

Jan 02, 2014
No films won't corrupt youth. But this depends on what we learn from that that is either good or bad.
Kalai,

says

Dec 28, 2013
No, the films are not corrupting the youth, bcoz now most of the youth like only the love they may expect fun, love, entertainment. The film makers may take a film which is their profession they may want to earn money from that whatever the film may be it is good or bad, in which way we are taken is matters. Even though in a bad films we may come to a conclusion that we should not be like that, finally how we are analysing it only matters.
Nishanth,

said

Jun 12, 2013
No one is interesting in watching goodmovie every one want to see love films this will impact on his life.
Hari,

said

Jun 7, 2013
In my point of view, films does not corrupting the youth, because the film makers or directors r taking the films to convey any useful message to youth. So, i will depends on the person who takes this in good manner or bad manner.
Viya,

said

May 7, 2013
Films are corrupting the youth,mostly films are taken based on love concept its make young people to change their minds. I will support movies like "Chak de India" which its shows unity ,hard work.
Daniyal,

said

Mar 9, 2013
As india is making good films and is in progress but these are having bad impact on the youngs and showing bad scene that teen try to b utilize in thier daily life.
Arati,

said

Mar 3, 2013
No, films are not corrupting the people, youth.films always want to give good manners. After watching a movie it is depend on people who watch a movie to take good manners or bad manners.from a film good boy bad boy there are many good thinks to take.
Madhu,

said

Feb 17, 2013
There is chance of 50% good & 50 % bad in now days films, why i say like this in some films there is a chance of getting good way and rest of films are going bad way so good and bad depends only when person way view of films.
Anshul,

said

Jan 25, 2013
Films basically made for entertainment , always in good film want to disclose some hidden or some real thing of society,which is good as well as bad,if it is bad so film teach to us how to fight those thing like untouchability..etc.and in good thing for society like unity for nation and like people against corruption. so its all about individual how they react towards any movie.
Abhishek Pratap Singh,

said

Jan 19, 2013
It's true that films are only mirror to the society. They shows what the things happings in our shroundings. Second things, some people who belong to rural area, they r not in the touch of external affairs of country. But they like to see movie. By the means of movie the can also motivate and can observe what's happing outside.
Pinky,

said

Nov 1, 2012
I think Some films are creating & have been creating a somewhat bad impact on public. I mean to say that Public take it in a wrong way. For eg: people have learnt to commit suicide, murders, etc. Films are not promoting such crimes. But people take them in a wrong way. Also, in "DHOOM 2" they have shown scientific ways of robbery & stealing valuable things. Those ways shown by them are very wonderful for watching & getting entertained only... but people have commited such robberies by watching the film. Also, in NAYAK the film shows that corruption has been totally eradicated from the system in the climax... But this remains restricted to the film alone. Where is the real-world practice..??? What have the people learnt from them..?? People just watch them, get influenced for some time & forget the moral as soon as the film gets over. There may be many films like LAGAAN and BARFI which have been nominated for oscars..but they are made just for entertainmenet purpose.. Did you learn anything from these films.
Rohit Upadhyay,

said

Oct 21, 2012
In my opinion, films are like mirror to a society. whatever happens in a society can be seen happening in films as well. there are both positive & negative aspects in a society and so are in films as well. we need to know, what we are going to gain from the films, and this is simply a matter of our own perception.
Bhavya,

said

Oct 15, 2012
I don't think films are corrupting today's youth because no film ends with bad winning on good. Films are basically for entertainment,but today fortunately or unfortunately,they are playing a major role.Why should the people follow the bad things in films,why can't they follow good things and go in right direction.Choosing bad r good only depends on individual.As a human,everyone has the capability of thinking what is good n what is bad.Besides this,humans are not chemicals,so they can think once before they react.
Shekhar,

said

Oct 4, 2012
There is nothing good or bad in a movie they are completely ment to entertain you all you need to take away from it is the message it wants to convey. Some good films can make a huge difference.
Akhilesh,

said

Aug 25, 2012
No i dont things that todays film are corrupting the people youth. They want to give some valuable information to all people those watch the film. Todays film just show which character play in the country. So dats y im not agree for todays film are corrupting the people youth.
Pavithra,

said

July 21,2012
I agree that some of the films are corruptioning the youth but not every film. some films are involve in spreading the good messages too some films help to look back our history and culture. Before the film many of us don know about Bhothitharmar after the film 7am arivu all south Indian came to know about him.
prasit dutta,

said

May 31,2012
No, i dont think so that flims are corrupting the indian youth. After watching a good or a bad movie. It effects in mind for a while but it doesnt mean that we have to do like what we saw. Its totally our responsibility to devlope our mind, to evaluate our way of thinking. in the flim "LAGAAN" AMIR KHAN showed how will power would work and can reach us in the top level of our life.
Priya,

said

May 29,2012
No, nowdays films are taken based on real life incidence. The life style, the way we expose ourself to a particular situation are taken as films by our good directors. They show that already our country is corrupted by some of the youths and they do not and they do not want this to happen in future.
Sanobar,

said

Feb 27,2012
There are both good and bad examples which can be provided to defend the topic but the fact remains that human brain is tuned in such a way that it picks up bad things more easily than the good one for example theft its an easier way 2 become rich almost a shortcut that is why people undertake to individual in such acts.
Shobhin,

said

Nov 19,2011
I don't believe in things saying that youth getting corrupted through films. Coz it is he/she have to draw a good conclusion after watching a film that what is good and bad. It is not that simple for example, if a guy watched a violence movie and gets ready to kill someone the other day, if that is the case, then why can't he watch a Gandhi movie and start following his footsteps from the other day. Ofcourse there are some cases happened through this,but in a few numbers. But these things are emphasized more on television channels, newspapers. And here we cannot completely find faults in these media channles. Ultimately i want to conclude that people to know things, understand it properly, decide which is good & bad, then take actions if they has to any ! Coz what they do, will come in return to them.
Jazil,

said

Nov 21,2011
No, films are not corrupting the people, youth. They always want to give good information to all. We can see an example in the movie "chak de india" . Sharuk gives information about team effort, how to work in a team, how to face problem etc..
Do not use shorcut method.